Successfully Navigate Uncertainty
FREE Download: Figuring Out Your Direction in Uncertain Times
What will happen in the years ahead (even the month ahead), and what will it mean for your business and your success?
The free strategy eBook, Figuring Out Your Direction in Uncertain Times, features a compendium of Brainzooming questions and exercises that we use to help clients envision uncertainty-focused strategies that incorporate the right mix of:
Brand consistency
Smart insights
Impactful innovation
Super-sized flexibility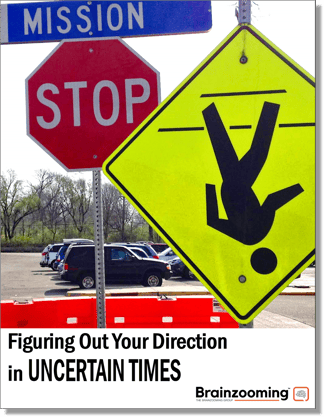 Specific exercises will assist your leadership team in:
Determining the new important at any point during dynamic market conditions
Narrowing potential options to be able to focus on strategic imperatives
Identifying a diverse range of key stakeholders, experts, and collaborators to help expand strategic thinking
Preparing your organization for considering and realizing greater flexibility
Anticipating vital issues during uncertain times
Exploring new ways to disrupt organizational elements holding back success
Incorporating actionable strategic monitoring and conversations into daily activities
This Brainzooming eBook shares beneficial strategies for keeping your business focused, even in what can be hard-to-predict business conditions. Download your FREE copy TODAY!