Implement with Greater Impact & Results!
FREE DOWNLOAD: Fast Forward - Successfully Implementing Your Strategic Plan!
Are there actionable, proven ways to boost your organization's implementation success?
The answer is, "Yes," and we share the very best ones we use to help clients implement in Fast Forward: Successfully Implementing Your Strategic Plan!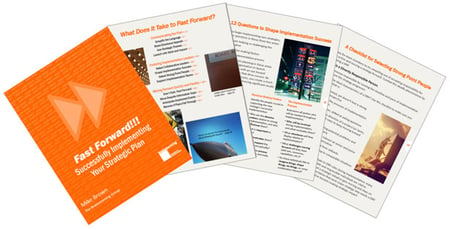 In Fast Forward, we highlight ideas, tips, and checklists you can quickly use for implementation success:
10 ways to simplify and strengthen the language you use to communicate strategic priorities
9 ideas for introducing your strategic plan with style and impact to engage your organization
4 keys for selecting the right collaborative leaders during implementation
12 questions to better launch your successful strategy implementation process
4 strategies to navigate typical execution challenges
Using mini-plans to increase implementation flexibility
If you're on the hook to move your organization from strategy to implementation ASAP, Fast Forward is for you!
Get ready to improve your implementation impact and meet this year's business objectives!
DOWNLOAD YOUR COPY OF FAST FORWARD TODAY!