5 Keys to Streamlining Your Organization's Strategic Planning
Want to spend less time planning and more time implementing?
Strategic planning is one of those tasks most people would rather put off. And no wonder: it's gotten a bad rep over the years. There is good news, though. It's absolutely possible for your organization to roll out a simplified strategic planning process.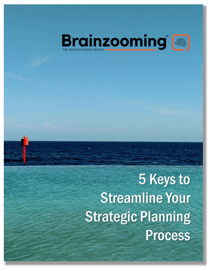 In this actionable guide, we share the checklist Brainzooming uses in streamlining hundreds of strategy workshops:
Suggestions for assembling a strategy team with the right types of diversity
Dependable ways to help non-strategists think strategically
Tips for streamlining strategic planning activities to best fit your organization and save time
These user-friendly techniques regularly cut weeks (sometimes months) from typical strategic planning methods. You can adapt them to your own situations to make them as efficient and effective as you need them to be.
This guide sets the stage for taking the successful next steps to make strategic planning a legitimate business growth process for your organization's success!